Events & News for your diary
---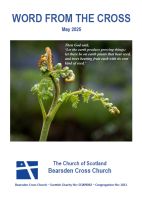 Word from the Cross
current edition of the church
magazine
available.
---
Sunday Services
at 10.30 a.m. Activities for children, Crèche are available. See below for our upcoming church events or look at the
calendar
.
---
Update your email details

, we want to keep in touch
During April we had problems with the church domain name which affected both the website and the email. The issue is now sorted and all aspects are working again. To assist with updating the distribution lists, if you would like to continue to receive information as appropriate e.g. Kirk Session Papers, "Word from the Cross", various rotas etc by email, please email the usual church email address (
secretary@bearsdencross.org
) as soon as possible.
New Members
It is planned to hold classes for people wishing to explore potential membership of the Church. If you are interested, or know of someone who might be, then please contact the minister on 942 0507 or at
gwilson@churchofscotland.org.uk

Reforming the Kirk

A series of three lectures by Rev Doug Gay entitled 'Reforming the Kirk'
viewable on-line, delivered in 1917.

A candid, forthright and bold analysis of the state of the Church of Scotland and the choices facing it.

He explores what it means to be 'presbyterian' in today's Scotland, in which even kirk members are ambivalent about their identity. Recognising the significant challenges facing the church in the coming decade, he offers a manifesto for enacting structural reform, including key economic reforms, within the Kirk and argues that change is essential to address deep seated problems of decline and dysfunction.

Rev Doug Gay Lecture



Lecture 1 — "Walls Without Church?"


The first lecture (1st February, 1917) explores 'what just happened?' tracing the decline of the Kirk as a national institution since the 1960s.



Lecture 2 — "Call and Response"


The second lecture (8th February, 1917) explores the relationship between the church's understanding of its own calling and its response.



Lecture 3 — "Grand Designs"


The final lecture (15th February, 1917) makes the case for radical structural reform of the Church of Scotland over the next decade.




---
EasyFundraising

is a FREE website service where you can shop with your favourite online stores and also raise funds at no extra cost! You still shop directly with each retailer as you would normally, but simply using the links from the easyfundraising.org.uk site first, each purchase you make will generate a cashback donation to our fundraising campaign.



---
For More

on the services together with other events see below, also viewable as a calendar or check out the current issue of our parish magazine.


---